AIR POWER
Inno­v­a­tive air con­di­tioning units
For the well-being of your passengers
Effizient. Flex­ibel. Dynamisch.
The dynamic style of the HITZINGER air con­di­tioners reflects inno­v­a­tive strength and tech­nical know-how. Due to the flex­ible struc­ture, it is pos­sible to respond to indi­vidual cus­tomer requests and also to inte­grate hot and cold water spi­rals. The AIR POWER can either be installed under a pas­senger boarding bridge or sta­tionary below. In order to be pre­pared for any even­tu­ality, our PCA can also be deliv­ered mobile on a trailer.
Rough specs
Gen­eral specification:
Cooling capacity: 12.5 to 78.9t
Sound level: 75 db (A) @ 4.6 m
Oper­ating modes: cooling and heating
Main com­po­nents:
- Alu­minum housing with extra noise insulation
- Energy-effi­cient EC motors with vari­able speed
- Two-stage air filter system (G4 + F9)
- Scroll com­pressor with elec­tronic expan­sion valve
Product details
The use of light­weight mate­rials such as alu­minum com­bined with energy-effi­cient com­po­nents sup­port our gen­eral endeavors to min­i­mize oper­ating costs. The mod­ular design allows easy instal­la­tion, quick access for repair work and a reduced stock of spare parts.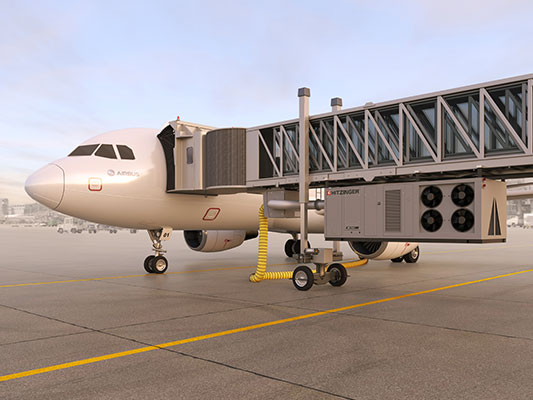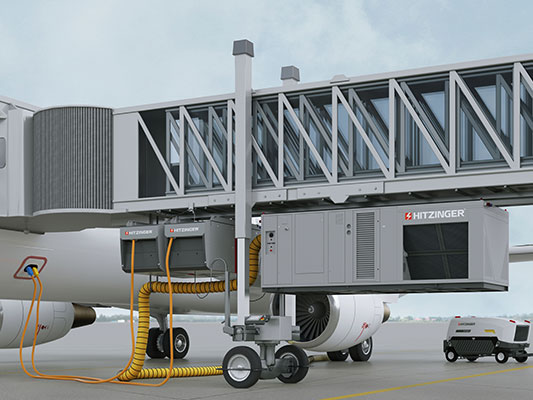 The most effi­cient device on the market
Greatest pas­senger con­ve­nience
Envi­ron­ment friendly
Inno­v­a­tive and reli­able com­po­nents
The lightest air con­di­tioner on the market thanks to the use of aluminum
Ser­vice
Do you need sup­port? Our ser­vice team will be happy to take time for you!
Spare Parts
With our inter­na­tional loca­tions, we can sup­port you with spare parts quickly and easily — worldwide.
Fur­ther information
Tech­nical support
Is your power supply not run­ning opti­mally? Do you need sup­port from our experts? We are happy to help!
Fur­ther information
Repair
One of your Hitzinger prod­ucts needs a repair? Simply con­tact us now — we will take care of it!
Fur­ther information
longevity & sustainable
Refur­bish­ment
With our refur­bish­ment, your Hitzinger prod­ucts will be like new again, even after decades!